To take the best advantage of the benefits of botanical ingredients, it is important to use them correctly. Here are some of our tips on incorporating our three beauty staples into your glowing skin regimen.
You can start with one, two, or all products in the collection, and as you enjoy each, you will also learn how to best incorporate them into your personal ritual that works for YOU. Take it slow! It is great to let skin get used to a new ritual, and it is also important not to confuse skin with changing what you do too often. Skin takes weeks to renew, so anything you do, will take weeks to take effect. Just be patient and enjoy the decadent natural scents of Mediterranean ancient beauty staples.


Morning ritual to awaken senses & skin


Tone and lift skin with Roseau (rose toner)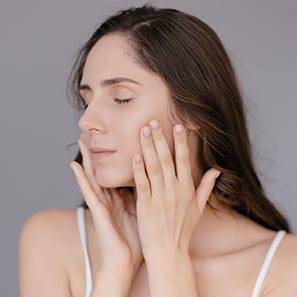 A flower with highest vibrational energy of all plants, rose is a masterpiece of nature. To create a product that takes essence of rose without destoring its healing superpowers takes masters in the craft of rose water vapor distillation. It is not water you are putting on your face, it is essence of rose itself.

This is how we use rose water (daily).
In the morning, after shower apply a few drops to face (using a cotton round) or a spray and tap the rose water into your skin until almost dry. This insures that the toner delivers the most benefits. After that always follow with a moisturizer like Barie Oil or Hoba Oil. We use Hoba Oil as our morning moisturizer and Barie Oil as a serum at night.
At night repeat the same steps as in the morning - cleanse the face, tap the rose toner into your skin and add your favorite night serum (Barie Oil or a Rosehip Oil).
Balance & protect skin with Granate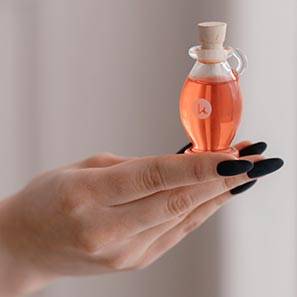 Packed with Vitamin C, Pomegranate seed oil goes deep into skin to balance out pH of the skin, which helps skin stay blemish-free and clear. It is a little more oily than jojoba, which is pretty much soaks into skin, and leaves very little if any oily residue. This is how we use Granate.
Morning Routine: use all oils in the morning immediately after shower when skin is slightly wet and pores are open. This way oil has ability to absorb quickly and lock the moisture. Use one drop at a time – a little goes a long way!
Evening Routine: put a few drops of pomegranate oil on clean face, massage using circular motion upward to lift skin and boost lymphatic drainage before sleep to further improve skin cell turnover and recovery that takes place while you sleep.
Pomegranate is NOT a good oil to cleanse skin. If you prefer a natural alcohol-free sensitive skin cleanser, use Katari Hoba (it is a liquid wax that does amazing job removing ALL makeup). Then rinse face with water or use water-based cleanser if needed, and then apply Pomegranate Seed Oil.


Renew & nourture skin with Poudre de Barie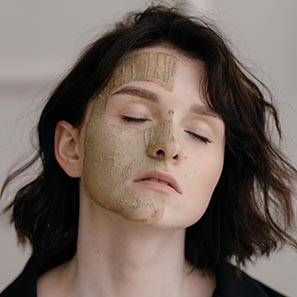 Barie Powder comes from the ground up core left from pressing of the prickly pear cactus seeds. Due to cold-pressing nature of the oil extraction, about 50% of the oil gets extracted and another 50% stays in the seeds, and so use it all for a rich, exfoliating and collagen-boosting skin treatment.

Poudre de Barie (Barie powder) is hard to use by itself, it needs to be mixed with something like an oil or clay masque. Here is how we use it 1 to 2 times a week:
Mix with an oil - add a pinch of Barie powder to your hand and mix with a few drops of carrier oil (like Hoba - jojoba oil), apply to clean, slightly wet face and massage gently into skin. You can leave it on for 20-30 minutes if you like and then rinse off. No additional moisturizer will be needed.
Boost your facial masque (add to Katari Argil) in equal proportions - about 1 tsp of powder and 1 tsp of Argil green clay and add 2-3 spoons of water, until you get a creamy (not super thick) consistency. Apply to skin avoiding eyes with fingers or a brush (or a spatula, or a sponge) to clean, slightly wet skin. Leave sit until almost dry and rinse off with warm water. You might not need a moisturizer after this masque. Your skin will tell you.